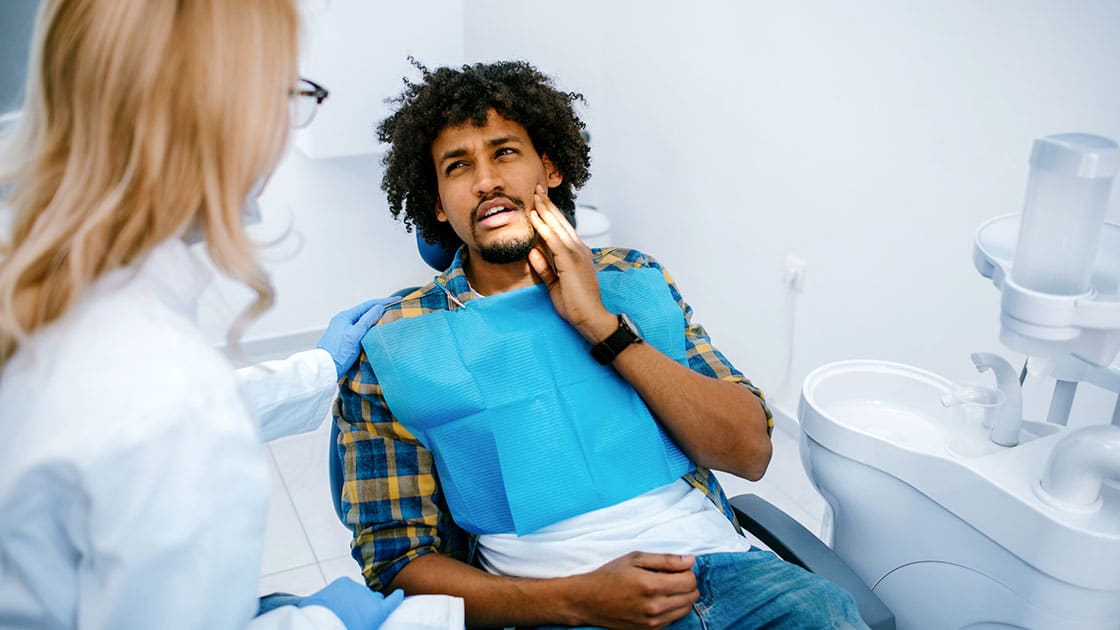 Dr. Lakhkar provides emergency dental care at two locations in Rhode Island: Cranston Cosmetic Dentistry in Cranston, RI and Elite Dentistry of Rhode Island, in East Greenwich, RI. 
Call our office for urgent dental care:
• Cranston Cosmetic Dentistry: 401-944-7556
• Elite Dentistry of Rhode Island: 401-885-6460
What is a Dental Emergency?
Toothaches, chipped teeth, broken teeth, knocked-out teeth, sudden swelling, or acute pain in the mouth are all considered dental emergencies that require immediate treatment. Any injury that leads to severe bleeding should be treated at the nearest hospital. For other dental emergencies, call your dentist as soon as possible.
Dental emergencies can result from infections, fractures, trauma to the face, or even severe tooth decay. They require emergency treatment to prevent the condition from worsening, to preserve the natural tooth wherever possible, and to prevent further injury due to cuts or lacerations in the mouth.
If you experience any new acute tooth pain, you're experiencing a dental emergency and need to contact your dentist right away. 
Types of Dental Emergencies
The most common types of dental emergencies include:
Knocked-out tooth
Believe it or not, even a tooth that has been completely knocked out as the result of a fall, accident, or other trauma to the face, may be able to be saved. But time is of the essence. Seek emergency treatment ASAP if you or your child has had a tooth knocked out.
Sudden toothache
A toothache that comes on suddenly is considered a dental emergency and needs treatment right away. Toothaches can be indicative of a crack in a tooth, an infection in a tooth, gum disease, or an abscess in the mouth.
Swollen or bleeding gums
Swollen or bleeding gums are a dental emergency because they are a symptom of gum disease. Gum disease can be treated and reversed, but if you don't seek treatment, you risk developing periodontal disease, which puts not only your oral health but your overall health at risk.
Broken dental crown
Dental crowns are overwhelmingly durable, but there's still a risk that a crown can break. If a dental crown breaks or completely falls off the tooth, it leaves you open to infection. Seek emergency dental treatment.
Missing filling
If a filling has fallen out, contact your dentist ASAP. A filling is used to fortify a decayed tooth, so without the filling, the tooth becomes vulnerable to breaking. In severe cases, a filling that falls out can leave the tooth's nerve exposed which can be extremely painful. At the first sign of a missing filling, contact your dentist for emergency dental care. 
How Are Dental Emergencies Treated?
The type of dental emergency that you're experiencing will determine the type of necessary treatment. If you've broken a dental crown, you may need to wear a temporary crown until a new crown can be placed.  If you've developed an infection in a tooth, you'll likely need a root canal to preserve the tooth. Missing fillings will need to be replaced.  Infections will need to be cleaned, and you may need antibiotic medications applied, or prescribed.
Why Choose Us?

Dr. Lakhkar provides comprehensive dental care. Dr. Lakhkar is a general dentist, restorative dentist, and cosmetic dentist, making her extremely experienced in treating all types of dental emergencies.  
If you suffer from an emergency that is limited to your mouth, call us immediately and notify us that you are on the way. We will be ready to provide emergency dental care as soon as possible after your arrival. 
If a dental emergency occurs after we've closed for the day, or during the weekend, call 401-944-7556. A voicemail will provide you with instructions.
If your dental emergency as the result of a car accident, sports injury, or a fall, you should be examined by a physician to before seeking dental treatment. Call an ambulance or go directly to the nearest emergency room. 
During office hours, immediate attention will be given to your situation, and you will be seen as soon as possible.  After office hours, please call us at 401-944-7556 and follow the instructions provided. Your call will be returned as soon as possible. If you are experiencing a serious or life-threatening emergency, please call 911 or visit the nearest emergency room.
Our practice is also open every other Saturday. If you do not have dental insurance, we accept credit cards and CareCredit financing.
Frequently Asked Questions About Dental Emergencies

Is a broken tooth a dental emergency?
Yes. Schedule emergency dental care as soon as possible.
Can a knocked-out tooth be saved?
In some cases, yes. But you'll need to see a dentist immediately. If the tooth cannot be saved, dental restorations such as dental implants, or dental bridges can replace your missing tooth.
Does insurance cover dental emergencies?
Many dental plans do provide at least some coverage for dental emergencies. We will be happy to file insurance claims on your behalf. You will be responsible for any amount not covered by your insurance.
Contact Us Today
We provide emergency treatment for dental emergencies. If you're experiencing a dental emergency, call our nearest location and follow the prompts on the message.
• Cranston Cosmetic Dentistry: 401-944-7556
• Elite Dentistry of Rhode Island: 401-885-6460
If you are experiencing uncontrolled bleeding or a life-threatening emergency, call 911 or go to the nearest emergency room.