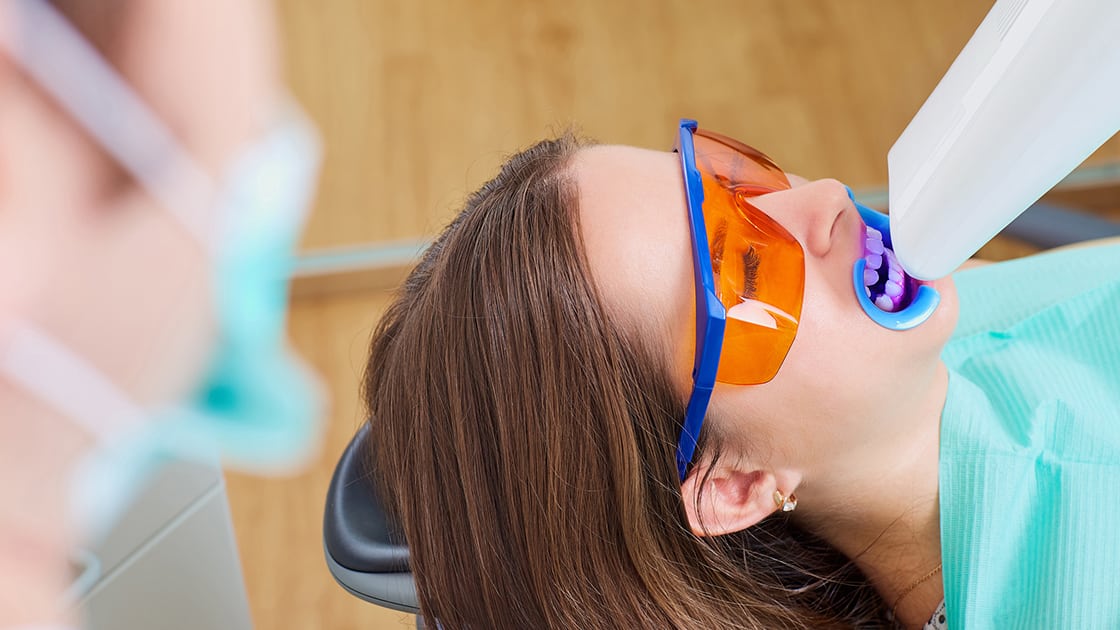 Dr. Lakhkar provides Zoom! teeth whitening at two locations in Rhode Island: Cranston Cosmetic Dentistry in Cranston, RI and Elite Dentistry of Rhode Island, in East Greenwich, RI. 
To learn more or to schedule an appointment, call our nearest location: 
• Cranston Cosmetic Dentistry: 401-944-7556
• Elite Dentistry of Rhode Island: 401-885-6460
What is Zoom! Teeth Whitening?

Zoom! teeth whitening can brighten your teeth in less than an hour with an in-office treatment. Zoom! take-home teeth whitening kits will whiten your teeth within a few weeks. All Zoom! treatments use a specially formulated hydrogen peroxide whitening agent. If you opt for in-office whitening, your gums and lips will be protected before applying the dental-grade whitening agent. Then a special LED light will be shined on the teeth for about 15 minutes. You'll repeat this cycle several times to reveal a whiter smile.
If you opt for at-home whitening kits, you'll receive a complete kit that contains whitening gel and trays that you'll wear on your teeth at your convenience.  No light is required if you opt for the at-home whitening kit. Options for take-home whitening kits are trays you wear during the day or trays you wear while sleeping.
All Zoom! whitening treatments work by breaking up stains on the teeth to reveal a brighter, whiter smile. 
Benefits of Zoom! Teeth Whitening

The primary benefit of in-office or dental-grade take-home whitening kits is a brighter smile. But, this is also a very affordable cosmetic treatment that works quickly.  Results typically last 6-12+ months and can be repeated. Teeth-whitening is a non-invasive way to upgrade your smile.  Brighter, whiter teeth can give you a self-confidence boost, and make you eager to show off your beautiful grin. 
Are You a Good Candidate for Zoom! Whitening?

Many people are excellent candidates for Zoom! teeth whitening. However, it won't work for everyone. Teeth that have been treated with restorations will not respond to Zoom! or any other whitening treatment. So if you have visible crowns, dental bonds, fillings, or other restorative treatments on the visible teeth, Zoom! is not the best option. If you have fillings or dental crowns on molars in the back of your mouth, they will not lighten, but your teeth that show when you smile can become much brighter.
If you have extremely sensitive teeth, you should know that teeth whitening can increase sensitivity. 
If you have teeth that have become discolored due to certain medications, or death, trauma, or severe injury to a tooth, resulting in a gray or brown tooth, it won't respond to teeth whitening. Dental implants cannot be whitened. 
Dr. Lakhkar can discuss other potential treatments for improving the appearance of a brown or gray tooth. Cosmetic treatments to correct a brown or gray tooth may include a  dental crown, or dental veneers can be an excellent way to lighten teeth that are gray or brown.
The best candidates for Zoom! whitening are patients who have yellowed, stained teeth that do not have dental restorations. If you're unsure if Zoom! is right for you, talk with your dentist. 
Why Choose Us?

Dr. Lakhkar specializes in cosmetic treatments that improve the aesthetic appearance of your smile. Our friendly, experienced team is passionate about helping our patients to look and feel their best, and Zoom! teeth whitening is an excellent way to upgrade your smile affordably.  Whether you choose in-office teeth whitening or choose to purchase dental-grade teeth whitening kits to use at home, Dr. Lakhkar and her team will be here to provide excellent patient care.
Frequently Asked Questions About Teeth Whitening

Does teeth whitening hurt?
Teeth whitening can irritate your teeth and gums, especially if you already have sensitive teeth. The irritation is temporary and can be managed with over-the-counter ibuprofen and toothpaste specifically designed for sensitive teeth.
How much whiter will my teeth become after whitening?
In-office treatments have been proven to whiten teeth up to eight shades in less than an hour. Take-home kits offer noticeable results after a couple of weeks.
Are professional teeth whitening treatments better than products that I see online?

There are a ton of teeth whitening products in pharmacies and supermarkets. Many are also marketed heavily on social media. The kits you'll receive from your dentist will contain higher concentrations of active whitening ingredients than you'll find in products online or at a store.
Does insurance cover Zoom! teeth whitening?
No. Teeth whitening is considered an elective cosmetic treatment. However, it is a very affordable treatment, and you may pay for it with third-party financing from CareCredit.
Contact Us Today

To learn more or to schedule an appointment, call our nearest location:
• Cranston Cosmetic Dentistry: 401-944-7556
• Elite Dentistry of Rhode Island: 401-885-6460