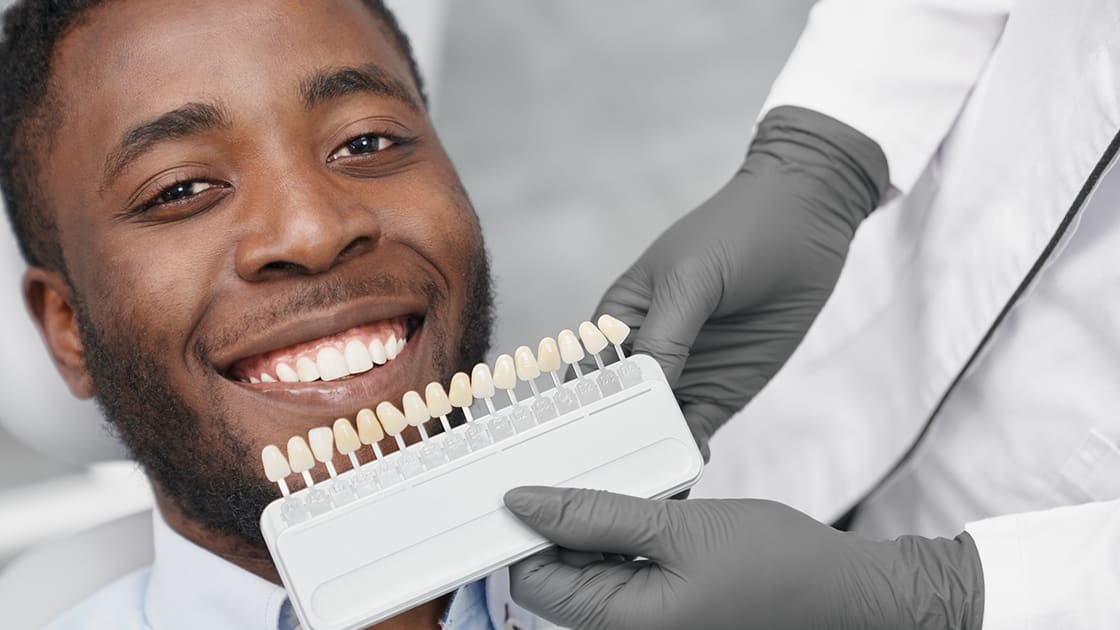 Dr. Lakhkar provides cosmetic dentistry at two locations in Rhode Island: Cranston Cosmetic Dentistry in Cranston, RI and Elite Dentistry of Rhode Island, in East Greenwich, RI. 
To learn more or to schedule an appointment, call our nearest location: 
• Cranston Cosmetic Dentistry: 401-944-7556
• Elite Dentistry of Rhode Island: 401-885-6460
What Is Cosmetic Dentistry?

Cosmetic dentistry is a term for dental treatments and services that improve the appearance of your teeth and smile. Some types of cosmetic dentistry, including Invisalign and dental implants,  also offer functional benefits, such as correcting bite problems or preserving jaw bone.  
Cosmetic treatments can correct nearly all imperfections with your teeth, including:
Misaligned teeth

Misshapen teeth

Missing teeth

Malocclusion (overbite, underbite, crossbite, open bite)

Discolored/stained teeth

Slanted teeth

Crowded teeth

Teeth that are too large, small, or pointy

Gapped teeth

Chipped teeth
Benefits of Cosmetic Dentistry

Cosmetic dental treatments aim to improve the aesthetic appearance of your teeth. However, most patients report additional benefits from cosmetic dental treatments including:
Improved self-confidence/self-esteem

More attractive facial appearance

Better oral health

Prevention of further damage from bite issues, decay, receding gums

Restored bite force and chewing function

Corrected problems with speech 

Minimized signs of aging

Long-lasting results
Procedures Offered

Dr. Lakhkar specializes in cosmetic treatments. As such, we provide comprehensive services and procedures including:
Dental Crowns
Natural-looking, tooth-colored dental crowns not only protect a decayed, chipped,or fractured tooth, but they can also be used to correct a stained tooth.
Learn more about Dental Crowns

Dental Implants
Dental implants offer both restorative and cosmetic benefits. Dental implants preserve the integrity of the jaw bone while restoring your chewing capabilities and bite force. They also offer an enhanced appearance, as they look and function like normal teeth.
Learn more about Dental Implants
Dental Bridges
Like dental implants, dental bridges provide both restorative benefits and cosmetic benefits. Dental bridges are used to replace one or more missing teeth in a row. A natural-looking, artificial tooth will be anchored to adjacent natural teeth, or dental implants to eliminate gaps in your smile.
Learn more about Dental Bridges
Invisalign
Invisalign is one of the most popular cosmetic dental treatments offered by Cranston Cosmetic Dentistry. Invisalign provides functional and aesthetic benefits, with discreet, nearly invisible alignment trays. After completing treatment with Invisalign, your teeth and bite will be properly aligned.
Learn more about Invisalign
Cosmetic Bonding
Cosmetic dental bonding is a non-invasive, affordable way to correct chipped teeth or unevenly sized teeth. Cosmetic bonding can also be used to cover stained teeth.
Learn more about Cosmetic Bonding
Teeth Whitening
Teeth whitening is available from Cranston Cosmetic Dentistry via Zoom! in-office whitening using a professional bleaching gel, and specialized light. Dental-grade take-home whitening kits are also available that offer better results than over-the-counter teeth whitening products.
Learn more about Teeth Whitening
Porcelain Veneers
Porcelain veneers are beloved by Hollywood stars. Porcelain veneers are very thin, shell-like coverings that are bonded to your teeth to create  brighter, perfectly aligned, and perfectly shaped teeth. 
Learn more about Porcelain Veneers
Smile Makeover

A smile makeover uses one or more cosmetic dentistry procedures to create a beautiful smile. The cosmetic treatments that will transform your smile will depend on your unique needs. For example, a common smile makeover will include Invisalign followed by teeth whitening. In other cases, you may need to repair decayed teeth in the back of the mouth, and have dental bonding to lengthen the front teeth. 
Full Mouth Reconstruction

A full mouth reconstruction is necessary if all or most of the teeth in your mouth need to be restored or replaced. Full mouth reconstruction is designed to improve not only the appearance of your teeth and smile, but the health of your teeth and smile. Treatments included in full mouth reconstruction often include dental implants, dental bridges, root canal therapy, and dental crowns. In some cases, a partial denture may be necessary to reconstruct your mouth and smile. 
Learn more about Full Mouth Reconstruction
Why Choose Us?
Our experienced, skilled, and friendly dentist Dr. Lakhkar graduated with honors after attaining her Advanced Standing degree of Doctor of Dental Medicine from Boston University Henry M. Goldman School of Dental Medicine. She specializes in cosmetic dental treatments and employs the latest technological innovations to ensure successful outcomes and enhanced patient comfort. 
At our digital dental practice, our team uses Electronic Medical Records, reduced-radiation digital x-rays, intraoral digital scanners, guided implant surgery for dental implants, and painless, single-tooth anesthesia using The Wand®.  
To best serve busy patients, our office is open at 8:00 am on select days of the week, and appointments may be scheduled until 6:00 pm. In addition, select Saturday appointments are available upon request.
We accept many insurance plans and third-party financing from CareCredit and Prosper Healthcare Lending.
Frequently Asked Questions About Cosmetic Dental Treatments

Invisalign does not cause pain, but patients will experience pressure as the teeth shift into proper alignment. But the smooth, BPA-free plastic alignment trays will not cut or scrape the soft tissues in your mouth.

Will insurance pay for cosmetic dental treatments?
Most cosmetic treatments are not covered unless they also offer restorative benefits. Cosmetic treatments that are most likely to be partially covered by insurance may include Invisalign, dental crowns, dentures, or dental bridges. Check your policy's specific coverage for details.
Am I a candidate for teeth whitening?
Many patients are excellent candidates for teeth whitening. However, if you have gray or brown teeth, teeth whitening may not help. If you have dental restorations on your front, visible teeth, they also won't respond to teeth whitening. Options such as cosmetic bonding or porcelain veneers may be an option if you're not a candidate for teeth whitening.

Contact Us Today
To learn more or to schedule an appointment, call our nearest location:
• Cranston Cosmetic Dentistry: 401-944-7556
• Elite Dentistry of Rhode Island: 401-885-6460